So I went to Sleep No More last night. And it probably won't come as a surprise to you, internet, when I tell you that it was amazing. Again I have to thank my dude Ryan for what turned out be the most mind-blowing Christmas present. It was one of the few genuinely out of body experiences I've ever had. I spent ... probably a good deal of time alone. I'm not sure how that compares to most folks who go. Whenever there were masses of people - even, perhaps especially, if there were actors to be seen - I walked in the other direction. Probably the best times I had were just wandering in the graveyard and the maze, alone, listening to the crickets. It was maybe not meaningful to my friends who've gone so far, which is why no one mentioned it, but a really huge portion of the music and musical cues inside Sleep No More are just the score from Hitchcock's
Vertigo
, which is maybe my favorite film score ever, and moved me close to tears several times. And also influenced my own movement and body language through the scenes. There were a lot of people with crossed arms or hands in pockets or just like walking like commuters through the space, like people on line at Blimpie's, and the way they comported themselves took me out of it a few times; along with some people's clothing choices. I'm looking at you, guy in the Ed Hardy Spider-man shirt and neon green YOLO trucker hat. They were just so recognizable as
people
. It was weird. I feel like I spent my own time walking with probably an exaggerated slowness, hands never leaving my side except to touch things. It was like a dream. I think I cut a profile pitched somewhere between
Scotty's
wanderings
in
Vertigo
and Michael Myers. Or that's how I felt I guess.
The strategy of crowd-avoidance did pay off handsomely a few times, since the actors do kind of zip from one location to another, with everyone following behind them. There were two or three times where I was just, you know, already exactly where I needed to be, just sitting by myself in the bathtub bedroom or the "my dearest love" room when the actors came charging in and I was perfectly positioned front row center while a giant crowd behind me strained for a glimpse. Macbeth and Lady Macbeth at the bathtub and in bed together were perhaps my favorite parts. I didn't see any repeats, and in fact didn't realize the action repeated several times over the night. I assumed it was just a very long performance that lasted hours.
I was advised by Caroline to run if I needed to, but I only did a few times, mostly to chase the nurse from the my dearest love room, who for whatever reason didn't have much of a train chasing after her. Mostly the actors were so thickly crowded with people that when running might have been a useful technique, I was so hemmed in by the scrimmage it just seemed ... a little dickish and even dangerous to take off at a jog. I was also advised to take any hand offered me, and none was, sadly, but I'm certain that wasn't the last time I'll go to see Sleep No More, so there's time.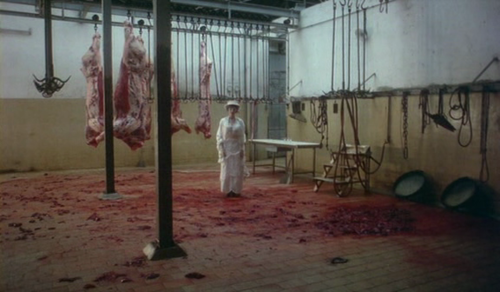 When I got home I felt myself particularly moved to watch a movie. I wasn't ready to stop
experiencing
stuff. I'd discovered
Jean Rollin
very recently, whom I'd somehow never heard of before, and have been watching a few of his movies and saving others for a special occasion. Yesterday was a special occasion. As soon as I got home I watched his
Fascination
, which, in its lovely, mysterious, vividly dreamy imagery, was precisely where I was at, and was perhaps the most fun I've had watching a new movie (well, new to me, I mean) in a very long time.