I could talk about my life - but whatever, livejournal, there are more perplexing things going on right now.

Last night around midnight Edbury and I were gchatting about an interview I have coming up. Even though we're roommates we probably talk more often over gchat than in person - but also I'm not home. I'm house- and dog-sitting for a friend in Sausalito, across the bay from San Francisco.

I've gone through my texts and gchats with Edbury and put the events together in the following narrative:

It's midnight and I'm talking to Edbury about, I don't know, TV or the internet or something. While we're chatting, Edbury receives a weird text. It was from 972 676 9168, but according to the metadata appended to the SMS that's a proxy for 931 338 XXXX. The message reads:

half hour, union square

Now, we live just a few blocks from Union Square. Eddie and I were intrigued of course. Mysteries! I was kinda nervous about him being all alone, and thought he shouldn't bring his wallet or phone, and wished I was there to safety-wingman him for ... whatever it was. But: Sausalito. Mostly I was thinking it was some weird OKCupid person. While I don't think he's all Eyes Wide Shut in his personal life, he has had what I would consider to be very mildly unusual assignations through OKC, so maybe it was just a weird hookup thing. Weird, but just you know, lower case w.

We debate whether he should go at all, and he decides he will. And at the required time, Edbury leaves the house and starts walking over there. He responds to the text with

I'm ready.

and receives the response

Donations?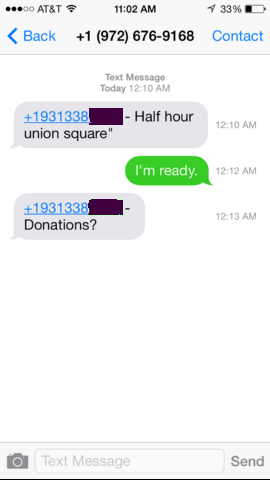 Weird. Five minutes later Edbury messages me

There are like. Cops everywhere in the park and a guy on the corner clearly waiting with a briefcase.

The cop part isn't too weird. The Nike Women's Marathon is on Sunday, and the park is mostly taken up with the marathon's pavilion and registration tent, and is well covered by the fuzz for civic safety purposes, presumably.

But that guy. Just standing there. Briefcase. Edbury's description:

brown blazer and slacks
chin length hair, but clean cut
glasses

Edbury starts kind of circling around him, walking past and trying to surreptitiously take a picture. He definitely doesn't know the guy and definitely has never seen him before.




But also like, that could just be a guy who's standing near the park. At 12.30 at night. In empty San Francisco. Coincidence, right? Then the guy takes out his phone and dials a number and EDBURY'S PHONE RINGS.

The guy is calling me. It's def him.

Edbury is standing too close to him to answer the phone without the guy realizing Edbury is standing kind of near him (though Edbury has walked within a few feet of him several times at this point, and there's no one on the street). Edbury doesn't answer.

Also: the phone call? FROM A DIFFERENT NUMBER THAN THE TEXTS. The caller ID on the phone call reads 415 399 1613.

Yeah no idea who this guy is.
Okay what if I text him "just leave the case." ?
I'm kind of just waiting and watching from behind.




Edbury and I spend a few minutes gchatting and trying to figure out what to do next. Edbury is finally like, fuck it, and texts him

Just leave the case

The guy checks his phone, sees the text, looks at it for a second, then starts SPRINTING.

HES RUNNING
What do I do he's running down post and I'm like semi chasing

Then

Nm I stopped wtf I can't chase some stranger

And that was the end of the night. Edbury watches the dude recede into the distance. It was like 1.30am at that point. Edbury went home and I got set up in the guest room here and we both went to bed. Sorta. Both of us sat up all night thinking about that shit.

This weirdness was the first thing on my mind when I woke up today. I was still inside this weird dream. And I immediately messaged Edbury and started trying to research the numbers on the internet. There are a bunch of boards where people talk about the robonumbers they get calls from. Mostly it's just like "Candidate for U.S. House of Representatives, left message in Spanish", but for the first number Edbury got the text from - 972 676 9168 - there are these two notes on 800notes.com, left on Mar 3, 2011:

I keep getting a text from this number with a +17864437089. The text goes on about us being friends and I need to let him know what's up. He adds little smiley faces and says his name is Guille...

and

Just got a text from this number followed by the word "Diamond"

The other, second number is registered to a Jeffrey Cox, age 59, 895 Chamberlain Ct Mill Valley, CA 94941.

A bunch of us who are fascinated by this started calling. The first number, 972 676 9168, just yields the message "Could not complete your call, please try again".

Will called the second one, 931 338 XXXX, the "Jeffrey Cox" number.

well I got through to the second number
and I said
diamond.
and a male answered
sounded mid 20s/30s
and he was like
what? hello?
and then was like
you have the wrong number
and hung up

I called the 931 338 XXXX number myself an hour later and talked to the guy for a (very) little while. He seemed slightly older to me definitely more 50s/60s than 20s/30s. But he spoke with a distinct Hindi accent. Will thought it was Spanish-sounding, but I think he's wrong. The guy admitted he lived in California but refused to answer any of my other questions, and legitimately didn't seem to know wtf I was talking about. He said he didn't know anything about Union Square. A little while later he called me back wanting to know who I was. I didn't tell him anything.

James/Jim called the third number, 415 399 1613, the one Edbury supposedly received the phone call from. It's weird computer noise and James hangs up, frightened. I call it and record the sound:



Now I'm trying to find a program that can turn audio data streams into something more useful. Though Jim is probably right that it's just some handshake protocol, not actual data.

I try calling the 786 443 7089 number from the "Guille" comment, in case that's not a red herring or coincidence. Not in service.

Then: Edbury deduces the Indian guy is "uninvolved."

she* is like 90% sure the second number is spoofed
his number is just text content sent from google voice
but whoever owns that number could just set that
*[Edbury's computer-engineer co-worker, who is also investigating]

Edbury's Jim's theories:

some weird misguided silk road FBI thing
a viral marketing scam
and actual awkward and maybe shady wrong number

My theory in the comments. Right now I've been at this for like twelve hours straight and no matter how fascinated I am, I haven't had anything to eat or drink, and I need to put this computer down and go to the bathroom. And maybe try to get some work done today. But damn. It'll be hard to pull my brain out of this.

UPDATE 1.56pm PST The "Jeffrey Cox" number, 931 338 XXXX, at the end of which I spoke to a Hindi-sounding man, texts me asking what is going on, and saying "My phone was not with me". I reply asking if he is saying his phone has been out of his possession in the last 24 hours. Awaiting reply.

UPDATE 3.36pm PST Jeffrey Cox number redacted because it is in fact the number of a real person.

UPDATE 3.42pm PST Jeffrey Cox number texts me to say his phone was out of his possession yesterday at "orientation", and his friends - who wanted to play with his 41 megapixel camera - sent out texts as a joke, asking random numbers to meet them at Union Square. This would have been early in the day though, not at midnight. He apologizes profusely. But if that is true ... who was Briefcase Guy? Jeffrey Cox number doesn't seem to be able to check his phone to ascertain whether those texts were or were not sent from his phone. I wonder if he isn't just assembling fiction from the fact that I asked him about Union Square when we spoke earlier, and questioned him about whether texts had been sent from his phone. He says "if you say it was from my number its impossible to say or prove that it was not me".