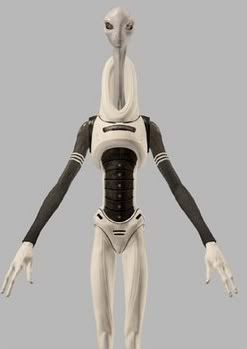 When last we left our characters, Bogey the goblin wizard had returned to reclaim his orb, which had apparently been chilling in a pit of molten lava for some time. Venturing deep into this cave, our characters had been attacked by large post-apocalyptic bugs, which they tore to pieces. (For a different, more goblin oriented perspective on this week's events you can read
mordicai's recap here.)

Only moments after this, a hideous rotting fleshy construct frankencreature burst through the cave wall from some sort of facility adjacent to the cave, pursued by a gaggle of robots and a long-necked humanoid wearing what looked like an astronaut's jumpsuit. Confronted by the party, the robots appeared confused about whom, precisely, they were supposed to apprehend, as did the long-necked grey. It was around this point that the cave ceiling, destabilized by the thrashings of the makeshift amateur frankenstein, began to fall on the party members, and trapping two out in the corridor (Erica, who was out sick, and Edbury, who was taking care of her). Most of the robots were destroyed in the cave-ins, as was Morax, our beastmaster's griffon whelp. The party--nearly annihilated themselves--managed to bloody the enormous and powerful semi-man, who fled back through the destroyed facility from which he had emerged. The long-necked gray healed the party enough to where they weren't all unconscious any more, and grieved when he saw the dead Morax, which he mourned as "the last of the gorgons", as Morax and our medusa swordmage Rondanina--whom the grey, named Manufacterie, recognized as a common griffon--had switched sortilegios at an earlier point. Rondanina subsequently switched them back. Adding to Manufacturie's confusion was the strange behavior of Bogey the goblin wizard, whom he addressed as "Technician", and the fact that the sortilegio of Xul'gos the drow paladin/warlock identified him as a drow, when that was what Manufacterie claimed to be--the resemblance between them was virtually nonexistent.

Manufacterie somewhat passively pleaded for the party's help in apprehending the rampaging semi-man--"The Failure"--that had, through as yet unexplained circumstances, become loose in the facility, but was largely ignored as the party poked around his rooms, and looted the uniform of Manufacterie's dead, presumably slain companion. There was an aviary, in which Bogey the goblin wizard sought out and consumed a pigeon (he remains the only party member who has adequately eaten since their arrival several days ago--the rest have only managed to snack on bugs and small dino eggs).

Manufacterie at first seemed keen on "preserving" some element of the dead, putative "last gorgon" Morax, although this became more procedural and hesitant after its identity was re-established as "simple griffon". He asked "Technician", Bogey, to modify and preserve the creature, which Bogey did, putting a Pylon console into a random configuration that caused Morax to leak some of the otherworldly motor oil that had permeated it prior to its last resurrection, as the demonic bull spirit had been eradicated in the party's presence. Bogey's next configuration raised Morax to a semblance of life, although it seemed undead and zombie-like (while not recognizably "undead", insofar as the paladin could discern).

Xul'gos the drow paladin/warlock sought out the Failure in the tunnels and faced him down in seemingly doomed single combat, but by repeatedly blinding it and hiding and striking stealthily at the howling creature in its confused fury, he managed to bring it down mere moments before nearly dropping dead himself. That's more or less where we wrapped up.

--

The initial fight was about as tough and mismatched as I've ever thrown at a party--a 2nd level party vs an 8th level elite brute, a 4th level controller, some high level minions and a collapsing ceiling. I had intended the fight to kill around 3 of the 6 party members, but since Erica and Edbury had taken sick leave, and
mordicai was leaving early, that was potentially the entire remaining party (at one point, Maggie, Emily and McCaffery were all unconscious), so I toned it down a bit at the end, lest my campaign end there in that stupid cave.

The single-combat between McCaffery and the construct was in fact perhaps harder (on Mac) than it needed to be. It's more designed to fight a group of people. I forgot its attacks always pushed the target 2 squares, so every time Mac tried to run after being attacked, I'd hit him with an opportunity attack, when he should have started his turn 2 squares away from the creature anyway. And the creature had an immediate interrupt that allowed it to do damage to adjacent enemies whenever damaged, but it was mostly damaged and attacked from afar, so that didn't come into play either.

It was, for me, a discouraging session. Which is weird, because by mid-Friday I had a ton of stuff concretely laid out and felt like I was on top of all eventualities. Typically I'm fretting right up to game time that I'm not prepared enough; this time I felt pretty relaxed and confident that my preparations would carry me through in an extremely satisfactory fashion. I had planned this week to be an Erica-centric episode, or, failing that, if the party didn't go for that bait, an Edbury-centric one. When both canceled about 15 minutes before game time, owing to Erica's being sick, all that went out the window and I freaked a little and had a hard time regaining my cool for the entire session. Plus, just as we were starting, Roscoe stepped in a glue trap and was too freaked out and uncomfortable and wired, because we had company, to let me deal with it (after we left, he let me gingerly peel it off his paw). So he was unhappy and uncomfortable all night--which makes it virtually impossible for me to relax or concentrate at all. My head just wasn't there.

Which was double disappointing because all my players had showed up to play. Sometimes people show up, they're tired, they've got other things on their mind, they've forgotten what they're supposed to be up to, they're not really engaging with each other or with the material. But last night I felt like my players were on, were really game and engaged and bright and excellent and ready for whatever I might throw at them, and I was locked into my frustrated plans and inflexible and unsure how to move forward. Such a waste. I'll get em next time, though.