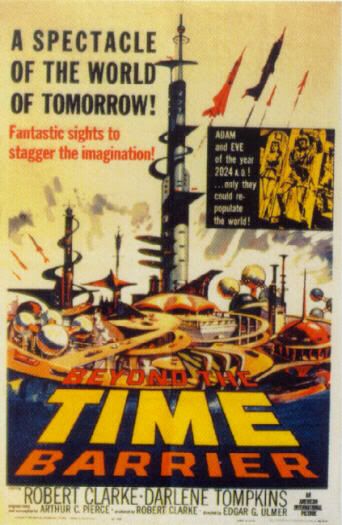 Beyond the Time Barrier (1960)
1:15
directed by Edgar G. Ulmer
starring Robert Clarke, Darlene Tompkins, Arianne Arden, Vladimir Sokoloff
Welll... this one wasn't exactly
bad
, exactly, but I'd probably choke on the word if I tried to call it 'good'.
Okay, maybe it was bad. But entertainingly so at least. An hour and a quarter of undisguised cheese pleasure. The only part that really doesn't... well, let my synposize first:
Air force pilot flies really, really fast and ends up 64 years in the future, after a plague has decimated the world, turning most of its population into either a) sterile deaf-mutes or b) howling bald lunatic mutants. Airman falls in love with one of the deaf-mutes. Deaf-mute dies. He flies home to his own time in hopes of preventing the plague, with uncertain chances of success.
Okay, so for the most part nearly the whole movie is interiors. Really dopey ones. The one part where I thought the movie might be creepy instead of campy was right after he lands at the dilapidated air force base in the future.
There's no one around. Totally empty.
From then until he's captured and brought into the citadel he wanders the woods looking for signs of human life (finding instead a cornball matte painting of a futuristic city looking pretty nice and shiny considering it's supposed to be
all underground
! in hastily tunneled caves) it's pretty spooky; although I reckon that that's always the case in these 'Am I the last man on earth?' scenarios with wide-open spaces and absolutely no people whatsoever. That's it. That's the only part of the movie that doesn't inspire a reeling camp giddiness.
Allegedly shot at the 1960 Texas State Fair, there is no shortage of unpleasant, pyramidal and triangular-motif rooms in which the action unfolds.
The acting is bad in general and positively appalling in some parts. Most notably the Air Force commander from the past and the head of the citadel's police force; man they stink on ice. Maybe they put up funding for the movie. Then again...this
is
and Edgar G. Ulmer picture...they probably showed up punctually and that was their sole qualification, but I suppose that's enough to play a supporting role in
Beyond the Time Barrier
.
Anyhow... taking into consideration the many unpleasant facts about this movie (bad acting, hideous dialogue, ridiculous sets and costumes, semi-comprehensible script) there is a good thing about it, beyond just the campy chuckles, in that Ulmer, no doubt not knowing what else he can possibly
do
with all this stuff, has some fun with it at least. Like, for example, the female citizens of the citadel: all in mini-skirts and high heels, and I'm pretty certain that Ulmer instructed them all to give it a bit of a wiggle when they walk, because they're definitely shaking their post-apocalyptic asses, big time.
And the... 'mutants'... My lord. They look like guys in torn hospital gowns wearing badly applied bald caps because, well, that's exactly what they are. They're hysterical. They seem like a Kids in the Hall parody of themselves. There's one scene where the head of citadel security takes the airman to the 'mutant dungeon' to show him where he'll wind up if he doesn't cooperate, and as teh airman looks down the stairs, it cuts to a piece of stock footage from some Universal horror picture or other that is so clearly
not
this movie that you're watching right now, that it just cracks you up. In the stock footage, it looks to be about 50 or so people (when there's supposed to be hundreds of thousands) and when the mutants rush the stairs (in a not-stock-footage shot) there are about only three of them. And this is the mutant nation in revolt, that we're supposed to be scared will overrun the citadel and destroy civilization forever. Oh boy.
Nevertheless, the scene where they
do
overrun the citadel is pretty effective, considering there aren't a tenth as many people in the frame as you feel there ought to be (the huge sets look pretty empty), you still get a feeling of stark chaos, spare as it is, it's there. With the mutants (the 8 or 9 guys they were able to scrape together who were willing to wear awful bald-caps and shriek) running through the place, attacking soldiers and civilians, the cameras tracking madly. Then there is the shot, Ulmer having fun again, of one mutant tackling one of the mini-skirt cuties and biting her on the ass--I died laughing.
But the worst and most unforgiveable (and least Ulmer's fault) are the special effects of the time-traveling space ship of the air force guy... bad-looking models on strings and all that. A sequence worthy of Ed Wood Jr. himself. Just as bad, or worse, than the special effects of the villain from
Girls in Chains
, which was an obvious, and oversized for the scale, puppet falling off a model building. This was easily as bad and cheap looking, but it went on for so much longer... That was some hokey-ass space plane. And some silly goddamn bald-caps. But an entertaining movie, at least. Definitely way over on the campy side of entertainment though.