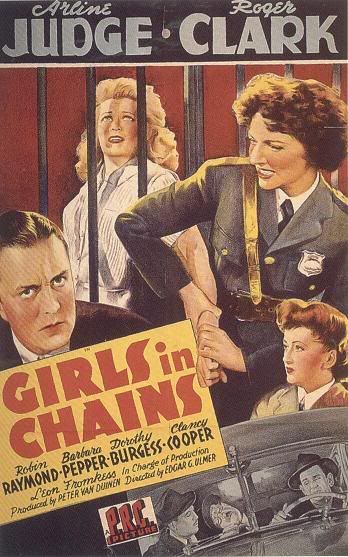 Girls in Chains (1943)
directed by Edgar G. Ulmer
Good lord. I have come to the first (although surely not the last) Edgar G. Ulmer movie that is truly, unequivocally awful. It's got a few moments...but apart from those rare moments, the movie is a positively wretched thing to sit through.
Really, the best thing about the movie is a minor character, Mr. Cleeter (played, I remember, by Emmett Lynn), some city official who, because he sides with the heroine, loses his job and goes on a marathon drunk, albeit a happy one. Man is he funny to watch. He's funny to watch even before he goes on a bender: he's a tiny, meek man with half-inch-thick glasses that magnify his eyeballs like goldfish tanks. He looks sort of like a badly aged R. Crumb, but smaller and more cuckolded. He's pretty silly and he's a real rip once he gets hammered. I mean, physically his performance was overdone and beyond hammy, but still within the borders of the acceptably comic. When he's on screen it feels like you're watching an actual movie. The only thing this movie really has going for it is the laughs when he's on screen. Like when he sits down at a stranger's table, they're a couple eating dinner in a restaurant, and the wife says, 'Look honey, an alcoholic.'
That's pretty funny.
What else can you say, though? Even Ulmer can't elevate this one.
The actors...I heard someone in the audience describe the heroine as 'dowdy' and I suppose that's pretty accurate. She
was
shabby in an uninteresting-to-watch sort of way. Both she and the male lead are horrible, absolutely horrible. It seems like everyone in the cast is a nonactor or relative of someone in the crew or something. There are actually times during a scene when the characters are supposed to be looking at one another while they speak, and their bodies and their faces are tilted in the right direction but it's pretty obvious that their eyes are looking past each other, reading their lines off of a card or something. I sigh.
Ulmer did this one also in six days (makes me wonder how much free time this guy must have had, since almost all his movies were made in under a week) although I don't know what the budget was, though from the looks of it, even less than
Detour
, if that can be imagined. With about the same number of sets it looks like, too. So why was
Detour
completed brilliantly while
Girls in Chains
could be used to fertilize crops? Who the hell knows. Maybe Ulmer was having a bad week. Not even a week, a bad six days. Six days! With a shoot that short, even a mild case of indigestion could basically torpedo you for the entire production.
The fascistas, the Nazi-looking prison matrons weren't that bad I guess. Although I always thing women in Nazi drag are hot. It's hard to tell; they had so little screen time.